Vegas Getaway Part 2!
Posted on July 18, 2010
The next morning Karina and I decided to start our day with one of our Vegas traditions: the Paris breakfast buffet. Years ago we heard it was fantastic and ever since we've had breakfast there at least once per trip. There are many staples of the French cuisine available: trout, salmon, eggs Benedict, etc. I was wild enough to try a crepe (it was delicious!) but kept to my old stand-bys, scrambled eggs and bacon, for the rest of the breakfast. I am "that guy" who goes to a Japanese restaurant and orders the chicken nuggets.
After breakfast, it was time for my big surprise. Karina had planned something weeks in advance for our trip but she refused to tell me what the plan was. We got into our rental car and headed out, me still in the dark as to our destination. Turns out, my wife is the best friggin' wife in the world! She had surprised me with a chance to drive a Ferrari F430 for five laps on a 1.1 mile road course at the Las Vegas Motor Speedway!
The experience started with a tutorial on how to drive a $200,000 vehicle at ridiculous speeds (actually is started with a preventative restroom break but I didn't want to interrupt the flow of the story…oops).  15 minutes later we were apparently all trained for the experience. I vaguely remember something about not turning while braking, keeping speed in the last corner before the straightaway, and not ruining their car.
All of the prospective drivers then board a Hummer H2 for two "discovery" laps around the course. I was glad I had made a preventative restroom run because, after two laps in a Hummer driven by a real race car driver, I most certainly would have discovered something in my pants. The intent of the discovery laps is to allow the drivers to become familiar with the course, all 9 turns. During the rare moments that I peeked through my shivering fingers I was able to see that there were a few turns to the left, and a few to the right.
Now completely prepared for the experience, I put on my helmet and got in the Ferrari. It was a beautiful red car, as evidenced by the picture below (that's me in the driver's seat).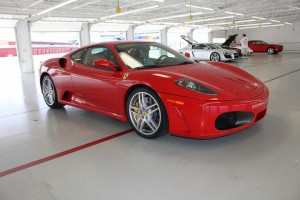 One thing hit me when I got in the car though. It was the door pillar. The interior of the car is not huge by any stretch. Unfortunately my helmet was though. I could barely keep my head straight up without hitting the pillar. Any looking to the left resulted in a slight "conk" (thankfully it didn't hurt because I had a helmet on). I adjusted my seat, greeted my copilot  (hi, please don't let me die"), and slowly began my run on the track. I started slowly because I had to maneuver the car out of the garage. In doing this I noticed an interesting phenomena. The more expensive the car, the bigger it feels relative to objects that can destroy it. I felt like I was driving the Titanic until we got outside.
After successfully navigating the garage exit, I breathed a sigh of relief. It was time to race! Over the course of the five laps I was able to get the car up to 110 mph on the straightaway that I estimate was about a quarter mile. That was a blast. Not so much of a blast was being passed several times by other drivers who apparently didn't realize they were careening around in items that cost as much as a good sized house. I really wanted to go fast but heading into the corners all I heard were visions of my dad from when I was sixteen: "slow down for the turn, this isn't a race you know". In fact, I thought I WAS going fast, until Karina burst my bubble by showing me the video of my run. I was convinced it was in slow motion. Alas, it was not. I merely drive like a granny (no offense grandma). I like to think I just got my money's worth more than the other guys who wasted the experience by going fast. While it kills my pride to show this, video of my run is below. I am the guy who looks like a baseball team's mascot due to the size of the helmet in proportion to my body (with the exception of the guns for course).
After my run, Karina got an awesome experience herself. She got a ride in a Corvette Z06 driven by a real Hollywood stuntman. His name was Roman something-or-other and he drove the Mini Cooper in the Bourne Identity. He took her around the track for two laps, drifting all the way. Those of you unfamiliar with "drifting" may think of a feather floating on the breeze. This "drifting" is not as graceful and more incredibly violent. It is similar to riding the Scrambler at a Carnival, only  if the ride was supercharged. They got up to about 140 mph in the straightaway. The video below shows a short portion of the ride Roman gave another person. In relation to Karina's ride, mine was a leisurely afternoon joyride.
On the way back from the racetrack we stopped at the Gold and Silver Pawn Shop. This is the store made famous in the show "Pawn Stars" on the History Channel. While none of the personalities on the show were there (they apparently only work weekdays…primadonnas)  we did see many of the items featured on the show, such as a bowling ball cannon, western-style dummies (see picture), and the painting of Jim Morrison. I thought it would be cool to buy something from the shop, but everything was way overpriced. Their used Blu-Rays were $15! I can go on Amazon.com and buy brand-new Blu-Rays such as that John Wayne classic "The Searchers" or the "French Connection" for less than that!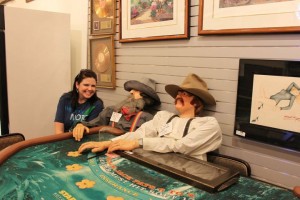 One of our requirements for the trip was for us to see a real Vegas show. We saw the Blue Man Group years ago and loved it. Our only criteria were the show could not have any nudity or profanity (this narrowed the field down to Donny & Marie, a ventriloquist, a timesharing presentation, or La Reve). Beings we were looking for tickets for that night, we were left with one choice: La Reve at the Wynn. As the show is at the Wynn, you may think it would be overpriced. But you are wrong. It was WAY overpriced. For the price we paid for those tickets, we could have watched 8 movies at the local cinema, bought a huge popcorn and soda, and used the valet parking. I figured we paid about a dollar and a half per minute of entertainment. At that rate I could have hired J-Lo for a private concert.
"La Reve" is French for "The Reve" which is Frenglish for "The Dream". It is a Cirque-du-soleil type of show, in that involved water and acrobatics. Only this one is unique (said the lady selling us the tickets) in that it has a plot. I was lost from the very beginning where we were told by a video-projected baby in utero not to use flash photography. You read that correctly. From what I gathered, it was your typical love story. Boy meets girl, boy asks girl to marry him, girl goes to sleep on a bench, girl dreams about people doing high dives, the devil does some menacing ballet, girl engages with a break-dance off with the devil's wife, girl wakes up, girl says yes to boy, and they are both lifted happily into the sky on a floating bed made of super-sized flowers.
Perhaps I am just not cultured enough to understand something like this, but I was lost. I like my love stories to be free of metaphors like Beauty and the Beast. The talking candlestick was just that: a talking candlestick. I didn't have to pay a dollar and a half per minute to figure out what part of Beauty's subconscious he was and how he kept the candles in his candelabra hands even when they turned upside down.
As you can tell, I would have much rather watched Carrot Top than the show we saw. Karina loved it on the other hand. Her favorite part was when two guys did some crazy acrobatic routine with each other. I think it had less to do with their amazing physical prowess as it had to do with the fact that their clothes were practically painted on. I know the male performers wear spandex pants (and nothing else) because of all of the physical activity, but really, sweatpants wouldn't be just as flexible?!
The show got out at 11, which was past our bedtime, so we braved the crowds on the street and headed back to our hotel. On our way we stopped at another Vegas staple for dinner: Panda Express. In line, Karina noticed a plate with a sign indicating it was for "Wasted Toothpick". Karina remarked that phrase reminded her of Lindsay Lohan for some reason. Ba-zing! Nicely done wife!
Day three's blog (not nearly as long…I promise) will be posted shortly. You'll learn about when we touched a real kidney. Try not succumbing to that teaser! Actually, please don't try. Read the blog instead.
---
No Replies to "Vegas Getaway Part 2!"
---