Hawaii Trip Part 1
Posted on January 25, 2012
Karina and I marked a significant milestone to us on December 29: our 10th anniversary. In order to celebrate, we decided to take a couples vacation and, thanks to our AWESOME mothers who watched our kids, we were able to! Karina had fallen in love with Hawaii when she took a trip there with her mom five years ago and that is where she desperately wanted to go. I offered the following counterpoint: "whatever".
We decided that we wanted to see as much of the islands as possible and thought a cruise would be a good way of performing that goal. The fact that there is only one regular cruise that goes around the islands made our decision easy.
The one cruise (that sets sail from Hawaii as opposed to the mainland) is from Norwegian Cruise Line aboard the Pride of America. I was slightly worried about cruising with a Scandinavian company. All I had in terms of background on their culture were Vikings and Ikea. I was worried that Karina and I would spend half the day trying to figure out where the buffet was: "is it the largenfluben or the deucenflusher? It must be the first because I am pretty sure the second is the restroom." And I assumed announcements from the Captain would begin like: "Ha-llo everyone, this is Captain Sven. Velcome to our sheep."
Day 1
Well, the big day finally came after more preparation than we had anticipated. Turns out handing over the reigns to your life for a week (especially during school) takes a bit of work. We left our moms with 7 volumes of instruction (including a video), cash to cover expenses, a Power of Attorney, will, and the list goes on.
In order to catch an 8am flight from Phoenix we woke up at 3am to hit the road at 4am. And, at about 4:12 we started our vacation a bit heavy-eyed. Both of us tried to catch up on rest during the flight but were both unable to sleep. I have never been able to sleep on a flight for some reason. It may have something to do with the fact that I am hurtling along at over 500 miles per hour, approximately 6 miles up, in a tin can, designed by humans, made up of 5 million parts that each must work perfectly to avoid disaster. Or it could be the seats.
We arrived in Honolulu around noon Hawaii time. After renting a car and checking in to our hotel we decided to do a bit of exploring. We decided to sample some of the local cuisine so our first stop was Round Table Pizza. While the pizza was delicious, I was slightly distracted by the birds frequenting the restaurant. Virtually all of the birds had some sort of a foot disfiguration. I could not figure out why. It turns out birds on some of the other islands are the same way. My theory is these club-feet are a natural survival adaptation for the birds. The feet are designed to incite pity in other creatures around it. And it worked in this case. I probably fed those birds a slice and a half of pizza. Of course another theory could be the human food is somehow increasing birth defects in the birds. I didn't think about that one until later: oops.
Evidence of foot problems: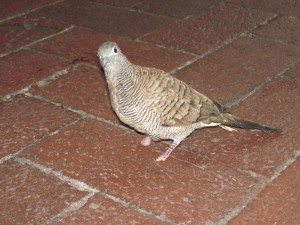 We walked along Waikiki beach for a bit and then went to a shopping district. It amazed me how much like Vegas Honolulu was in regards to high end shopping. Thankfully Honolulu's street-side flyers involved less nudity. We then hit an international marketplace that had a ton of stereotypical Hawaiian souvenirs.
Here's us on the beach at Waikiki: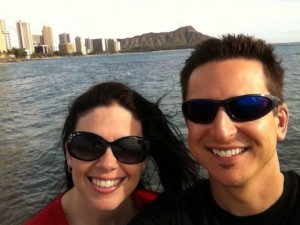 Both of us were a bit tired from waking up so early so we turned in early and went to bed around 8:30. We each slept well…until 9pm when I was violently awoken to the sound of numerous explosions nearby as the hotel's weekly fireworks started. Thankfully, they were relatively short and, after breathing into a bag for a few minutes, I went back to sleep quickly.
Day 2
The next morning we woke up naturally at 5:45 am (8:45 Tucson time). Getting up before 6 on vacation just felt wrong. Our one goal for Honolulu was to visit Pearl Harbor as we have both been very interested in World War II as of late. After a wrong turn or six we finally arrived. I have no idea how the Japanese pilots found the harbor as I had a hard time and I had a navigator, GPS, and road signs to follow.
We had really wanted to visit the USS Arizona memorial so we got our tickets, maps, and a headset to listen to an audio tour. As we had about an hour before it was our turn to head out to the memorial we hit the restroom before we were going to walk around.
Unfortunately some sort of incident had happened in men's urinal number 2 (which was of course the only one open). The floor was covered in…errr….the stuff that goes in a urinal. But, since I was wearing shoes, I tiptoed in and did my business. Unfortunately after I did my business, disaster struck: I dropped a pile of paperwork from my underarm directly into the puddle. Looking back, I probably should have just let the paperwork be. However, there were witnesses and I was always taught to clean up after myself. So I reached in and grabbed my papers, neatly dabbing my fingertips into the puddle. I threw the papers away immediately and set about washing (and rewashing) my hands. When we got out, I told Karina that I was pretty sure what just happened was surely the worst thing to ever happen at Pearl Harbor…that day.
The USS Arizona memorial was a somber and fascinating experience. I wish we had more time to spend as there are multiple museums and memorials at Pearl Harbor. I could have spent two days there and I recommend a visit there if you ever find yourself in Honolulu.
Here I am at the USS Arizona Memorial: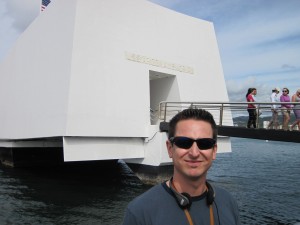 As our time to board the ship was nearing, we set about finding an authentic Hawaiian barbeque in the neighborhood of the airport. The specific one we were looking for turned out to be a lot harder to find than we thought (I sure could have used a Japanese aviator). We finally settled on the "Airport Barbeque" which we stumbled across in a very industrial area. We felt safe though as a police officer was eating there at the time. The food was tolerable but certainly not what we were hoping. And of course, as we drove off we passed right by the restaurant we were looking for.
We boarded the ship and as is our custom, headed immediately for the buffet. The buffet is my favorite part of any cruise as the endless possibilities just make me feel all warm inside. And this buffet seemingly did not disappoint. There were traditional staples such as pizza, hamburgers, and sirloin, as well as some other dishes I don't generally eat: seafood pasta with octopus, lamb curry, and something with duck. The food was fantastic…in theory. However, it was a little bland and slightly cold. I made up for this by shoveling more into my mouth. And then going for dessert…which was amazing.
Now, as this was vacation, my next step would have been to find a lounge chair and slowly settle into a food coma. However, it turns out I am now married to the second coming of Jillian Michaels, so we "got" to exercise. The ship had a running track and we decided to run a couple miles on it. Running on a moving ship turned out to be a lot of fun (with the exception of trying to avoid buffet revelers slowly searching for lounge chairs). Running forward on the ship made me feel like Usain Bolt. However, running towards the back against the ships movement was a little dispiriting.
Here is a picture of us running….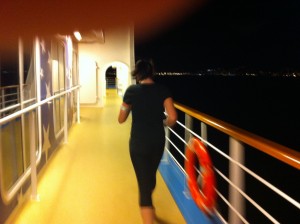 For the record, Karina wasn't ahead of me because I couldn't keep up. Of course not. You see, I was..uh….about to lap her! Yeah, that's it. For the second time!
Here's more of us relaxing on vacation…
One very nice amenity in the gym was that every treadmill had it's own television. You could choose from literally several channels of entertainment. Most of them being news organizations. And most of them dedicated to focusing on this story: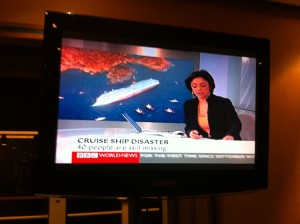 While keeping up with that story sure didn't help my nerves, I had complete trust in our Captain as I had never heard of a Scandinavian ship crashing due to unsafe maneuvers. As a matter of fact, I hadn't heard of any Scandinavian ships period.
(Except this one of course)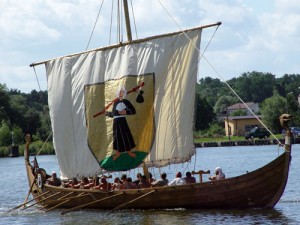 After running and lifting weights in at the gym a bit I hit the shower. And it turns out I mean that in a fairly literal sense. The shower turned out to be smaller than a European phone booth. Not to mention the ship was rocking and rolling requiring me to balance constantly. It must have looked like I was performing a drunk hokey pokey. There were knees and elbows everywhere! Thankfully they were cushioned by the shower wall. I can't imagine what people in the adjoining room thought was happening as it no doubt sounded like a fleshy rock thrown in a dryer. And, it was even worse if you could have seen me, which was impossible as there was BARELY enough room for all the appendages of even one normal human male.
The rest of our vacation will follow soon….
---
No Replies to "Hawaii Trip Part 1"
---