Hawaii Trip Part 3 (Final)
Posted on February 15, 2012
Day 4 – Hilo
After leaving Maui, our ship sailed to the "Big Island". Around the Hawaiian islands this island is called "Hawaii", but to avoid confusion with others such as myself, it is referred to as the Big Island. We learned it is the youngest and largest of the islands and is the home of an active volcano. Our first day on the Big Island was on the eastern side in Hilo. This day happened to be Karina's birthday so we attempted to find a way to fulfill her main goal on the island: visiting a black sand beach. All of the rental cars were booked (unless we wanted to pay $250 for the day at a local rental place) so we found an excursion that was to visit a black sand beach.
The excursion ended up being very fast-paced but extremely fun. It was run by a company called Lobo Del Mar which was comprised of a very gregarious family. I'd recommend their tours to anyone visiting the Big Island in the future. This particular tour took us to places like Rainbow Falls, Volcano Trees Park, and finally a black sand beach (Kaimu). It was gorgeous. Palm trees waving in the wind, the warm Pacific waters lapping and the black sand…that is until 1990 when the entire bay was covered with lava. The new beach is much more…errr…rugged, but still fascinating and beautiful in it's own scene-of-utter-destruction way.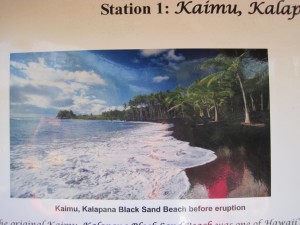 The beautiful beach at Kaimu before the molten lava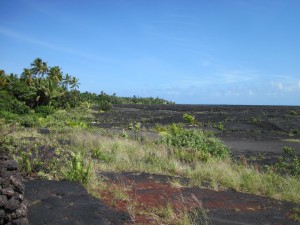 The beach as it looks now…less beautiful and more apocalyptic
As part of the tour, we also learned a little about the city of Hilo Hawaii. This poor town has fought many disasters and managed to survive. From numerous earthquakes and tsunamis to the unthinkable terror of having Rosanne Barr move in. I was hoping to see Roseanne as she would fulfill my quest for seeing a celebrity on the trip but, alas, I was not able to spot her.
Day 5 – Kona 
We had left a few days on our trip open for just exploring and sitting on a beach. One of these days was on Kona. We decided we would rent a couple scooters and try to find a nice sandy beach close by to sit and relax at. Unfortunately, we had no luck finding scooters. There were two companies on the island who rented scooters and one's reputation (according to the internet and user reviews) was less than stellar (it had about as much credibility as that guy on the street corner selling authentic Bolex watches). We ended up walking to the only other scooter business we could find. Unfortunately, they only had 1 scooter available and it was large enough to require a motorcycle license to rent. While Karina possesses said license, that would mean I would have to ride on the back…of a scooter. While my manly pride (or lack thereof) doesn't preclude me from drinking blue girly drinks with umbrellas or enjoying a good musical from time to time, I do have standards. So walk we did.
Unfortunately we were unable to find a beach within walking distance so we ate lunch and shopped until it was time to get back on to the tenders which took us to the boat. And wouldn't you know it, there was a small sandy beach literally feet from where the tenders docked. We were slightly disappointed but then remembered WE WERE IN HAWAII!!
One thing I found interesting was being tenderered between the ship and the island and back on the ship's lifeboats. I had never been in one before (and hope I never have to be again). The boat had written on the side that it's capacity was 100 passengers as a tender and nearly 150 as a lifeboat. And, even with just the tender capacity it was crowded and a pretty wild ride on the waves. As we headed back to the ship I started thinking about what would happen if the lifeboat sank and I panicked. We would have no hope! Unless there are even smaller lifeboats in the lifeboat. Despite looking everywhere for said lifeboats (and receiving some odd glances in return) I did not locate them.
When we got back on to the ship we decided to hit the hot tubs. Believe it or not this was the first time we got wet in Hawaii! And "hot" in hot tub was a severe understatement. It was set to approximately "lava" no doubt as a tribute to the volcanically formed islands. Totally relaxed, I enjoyed percolating in the frothy water and using the water jets to clean those normally hard to reach spots between my toes.  The water was kind of frothy for some reason and I did not want to know what mixture of chemicals and human body excretions made it that way. I did immediately shower off after exiting the tub.
General ship notes
In order to avoid this becoming a daily journal, I figured I'd break it up a bit as it where to discuss the ship before going on to our last couple of days. As I noted, the ship was named the Pride of America as everyone knows the pride of our country is not the principles of freedom we are founded on, nor is it any of our beautiful landmarks be they natural or manmade. No, it's a cruise ship in Hawaii owned by a company named Norwegian cruise line. I was skeptical as to how a Scandinavian country would be able to capture the American essence in a ship, but let me tell you: they nailed it!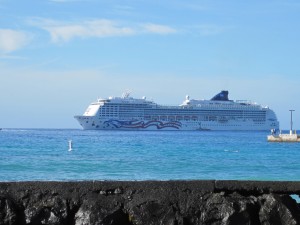 The outside of the ship. Even it's exterior screams "Vee are Proud to Be Americans Ya!" in a Norwegian way.
The centerpiece of the ship was a beautiful sculpture of the Washington monument. Next to it was the seal of America rendered on the marble floor. In the stairwell at each level was a huge portrait of one of our great landmarks or cities (and even some landmarks within cities!). My favorite was this picture of Los Angeles' Colon Hotel (I hear it stinks in there).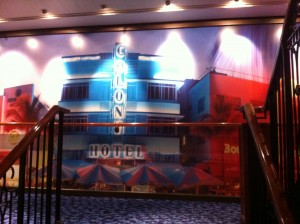 There were two main dining rooms for guests to choose between. The "contemporary" dining room was called "Skyline". Beings it was contemporary, it was themed after 1920's New York.
The more formal dining room was called "Liberty" and was themed after…some patriotic stuff I guess. My favorite part of this dining room was it's sculptures of various American heroes. Namely, this sculpture of Abraham Lincoln gallantly hailing a taxi cab.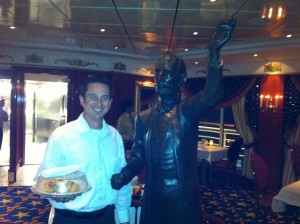 Not everything was so obviously American. For example, there was this mural on the outside of the ship that captures the true aloha sprit of the islan….gah!! What is wrong with his thumb?! Good heavens, this must be a futuristic mural depicting residents of the impending zombie apocalypse relaxing by catching some waves.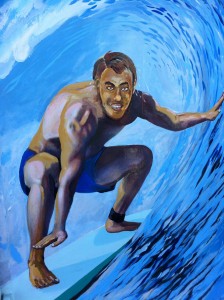 Finally, there were a couple of unique drawings in the men's room which I felt were interesting enough to photograph and mention. As you can see, they require no introduction (but an explanation would be nice).
I am really having a hard time determining what aspect of these pictures frightens me the most. No, I think I can narrow it down to the fact that they are peeing milk. 
Ship Entertainment
One piece of the cruise experience I wanted to take part in was watching the onboard comedian. Since our kids weren't with us, we didn't have to worry about a little salty language. Throughout the cruise we were informed that the ship was blessed with an award winning comedian. His name was Tim Kaminski and the award he won (and subsequently promotes himself with nonstop) was 2001's Best Upcoming Comedian awarded by the National Comedy Hall of Fame. "THE Best Upcoming Comedian award?!" you ask incredulously. THE very award won by Bryan Kellen and…I guess some others. Bryan was the only other previous winner I could find using Google. Incidentally, per the National Comedy Hall of Fame's own website (http://www.comedyhall.com/) it doesn't even exist yet. But their website describes their plans and what will be included in the hall of fame. Something tells me they will need to update the plans for the "Successful Predictions of Upcoming Comedy Acts" wing.
We missed Mr. Kaminski's first show earlier in the week but decided to go to the ship's farewell show which included final performances by both Tim Kaminski and the ship's guest musical act: Oh What a Night, a Franki Valli tribute.
Tim Kaminski opened the show with his "comedy act". It was comprised of the bit made famous on Whose Line is it Anyway where an audience member would stand behind Mr. Kaminski and pretend to be his hands while Tim Kaminski narrated the activities. For example, the audience member would have to lather and shave Mr. Kaminksi's face while Tim talked about his morning routine. Or the audience member would have to mime graciously accepting an award as Tim reiterated the fact that he won 2001's Best Upcoming Comedian award.
Karina and I ended up enjoying the Franki Valli tribute band even more. Not necessarily because of their talent (which wasn't bad), but because of how well they got the crowd going. It was then that the true demographic of the ship really sank in (we should have known better when we heard Norwegian's motto: "You'll have a swell time – it's even more fun than a color talkie!" Oh What a Night sang many of Frankie Valli's hits as well as other songs from the general period (specifically, the olden times period). They even sang one of my favorites, Big Girls Don't Cry. I bet 30 years from now we will be on a cruise watching a group of people not even born yet singing Black Eyed Peas and Nickelback. Just kidding, nobody would ever put a tribute together for Nickelback. But maybe maroon 5 or something.
The farewell extravaganza concluded as representatives from the whole crew came out to sing "you are Norwegian now". I knew where and when we were to depart but I had no idea my nationality was going to change. That was not in the brochure! One thing I thought was amusing (And perhaps telling) was how the housekeepers were relegated to the back of the stage. Seriously.
After the song everyone clapped for the captain of the ship who had managed to avoid small Italian islands. The fact that the Captain was onstage didn't bother me as I am confident he has crew members to cover for him as well as intricate electronic equipment meant to keep the boat safe. However, I became incredibly concerned when I saw all of the chef's on stage. WHO WAS MAKING THE FOOD?!
Day 6 – Kauai
The last island we were going to his was Karina's favorite: Kauai. I was also excited because we had a Zip and Splash excursion planned. After confirming with the boat's guest services that a swimsuit was recommended at the Zip and SPLASH adventure (not one of my finer moments, but hopefully I brightened their day a little) we headed to the rendezvous point. We were met by our excursion leaders Elvis and Noosh. I make it a general rule in life to not put my life in the hands of people named Elvis and/or Noosh but I made an exception in this case. Perhaps it was the air of confidence they exuded…or more likely the fact that excursions are expensive and, even if it meant plunging into a rainforest from hundreds of feet, I was getting my ding-dang money's worth!
The excursion ended up being a blast. The zip-lining was awesome! We did several lines culminating in one that was 1800 feet long and over 200 feet high. And the scenery was beautiful. My favorite part though was on the drive to the zip lines when we drove by several places featured in films like Six Days Seven Nights and the Descendants (yes, what you are thinking is correct, I walked on dirt that was walked on by THE George Clooney!!). By far the best one was the watering hole from the original Jurassic Park. That movie was one of my biggest influences growing up. I was obsessed with it (which explains my impressive knowledge of Velociraptor facts and my equally impressive lack of girlfriends through most of high school).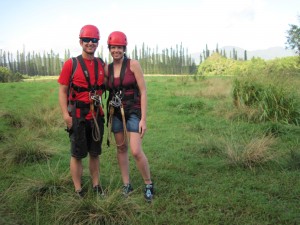 (Here we are, all ready to go ziplining! Harness: check! Camera: check! Goofy-looking helmet that would do nothing in the event of a fall from 200 feet: check!)
When we got back to the harbor we rented a car and decided to drive around Kauai. We headed up the east side of the island. As this is the wet side, it had beautiful flora.
We saw the picturesque Hanalei Valley and the beautiful Kiluea Lighthouse. It was at the lighthouse that we saw the following picture below of a bird native to the area: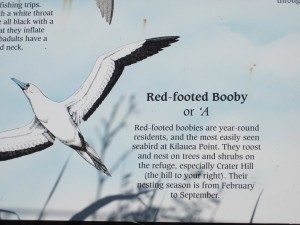 That magnificent creature is the Red Footed Booby. It appeared to be a beautiful avian specimen. When I saw that picture, I knew that I wanted to feast my eyes on a nice booby while I was still in Kauai. Even better would be spotting a pair of Boobys (or Boobies, not sure of proper grammar as it relates to a booby). I am sad to sad I did not see any boobies in Kaui. I hear they are enormous there.
Day 7 Kauai
Our final day in Kauai was relatively low key. Still having the rental car we drove up the drier west coast of the island, visiting landmarks such as Spouting Horn and Waimea Canyon.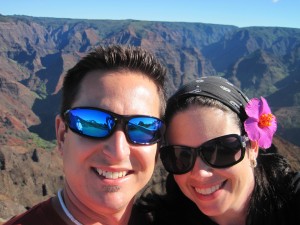 Here we are in front of the Grand Canyon of the Pacific
We had to be back on board early as the last day of the cruise included a close sail-by of the Na Pali coastline. These beautiful cliffs are only accessible by water or hiking trail. I really wish I was looking at them as we sailed by. However, my eyes were clenched in terror thinking about how the last "close pass" by a cruise ship worked out. Thankfully the Norwegians aren't quite as risky as Italians apparently and we made it back to Honolulu unscathed.
Day 8 – Return Home
Our final day saw us disembarking at 9am. On our way out we said goodbye to our favorite crew member (holla Ember!).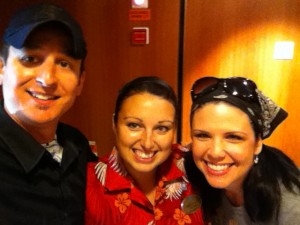 Us and Ember
We then looked to pass time until we had to be at the airport around noon. We found a free shuttle to a local shopping mall where we figured we could finish up our souvenir shopping. I should have remembered what my mom always said about nothing ever being free because the one catch with the shuttle is we "got" to take a free tour of Maui Divers, a local jewelry shop. Is there anything more boring than a jewelry shop tour? I submit there is not! The tour involved walking through the factory as we watched employees assembling and polishing various pieces of jewelry. They looked just about as happy to be there as we were. But at least THEY were being paid! By the time we got to the mall, we had about an hour to shop before needing to head to the airport. Looking back, it would have been just as entertaining and productive to have paid a taxi to drive us in circles in the parking lot.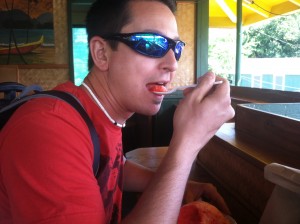 Here I am eating authentic Hawaiian Shave ice. It was DELICIOUS!! 
We got to the airport in time to find out our flight was delayed. So we sat down to lunch at an airport eatery. It was here that Karina FINALLY got carded while ordering a drink. She was ecstatic. That is until she noticed the button on the waiters vest saying "we card everyone". Beggars can't be choosers!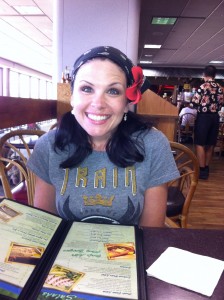 Karina looking ecstatic after being carded by the waiter who would literally get in trouble if he didn't card everyone
We had an awesome time on the trip overall. It is truly a blessing to have mothers willing to watch the kids for us while we got away. We enjoyed the alone time immensely and were able to do pretty much everything we had set out to do. I even saw a celebrity! Who you ask? None other than Tim Kaminski, 2001's Best Upcoming Comedian of the year as awarded by the (not yet existing) National Comedy Hall of Fame.
---
No Replies to "Hawaii Trip Part 3 (Final)"
---