Vacation
Posted on August 8, 2008
We recently returned from our family vacation to Monterey, California. Karina, Ashton, Lynsey and myself went out to see my sister Stacie and her hubby Adrian and to take in the scenery/activities in the northern California area. Overall, we had a great time. The scenery was beautiful, there was so much to do, and we were not all swallowed by the earth in a cataclysmic earthquake. Below are a few of the highlights:
Arrival in Oakland: Our flight from Tucson proved uneventful. We were hungry though since it was around 1 in the afternoon. Without any reservations, we found a Burger King in the vicinity of the airport to grab some lunch. After walking in the restaurant, I immediately noticed we were out of place (and judging by the looks of the other restaurant patrons, they noticed it as well). It was then that I realized I was in a Burger King in the VICINITY OF THE OAKLAND AIRPORT! Thankfully, we were able to escape the restaurant not only with our lives, but with satisfied stomachs as well. I think our safe escape had a lot to do with my quick thinking: referring to everyone as "homie" allowed me to blend in with the other patrons, not unlike a chameleon…a very out of place chameleon.
Spirit West Coast: The whole reason we chose to visit Monterey at the beginning of August was the fact that the Spirit West Coast festival was being held then. It is a huge gathering of Christian Music artists, including our family's favorite, TobyMac. Thankfully, we were warned to bring jackets. The one thing I forgot however was sunscreen. While Karina and I managed to shield the kids from being burnt to a crisp, I wasn't so lucky. Had it not been for the sunglasses, I might have been able to fool those around me into thinking I normally had the skin tone of a tomato. Unfortunately, since I had sunglasses on the whole day, I looked like this for the duration of the trip (See Exhibit A):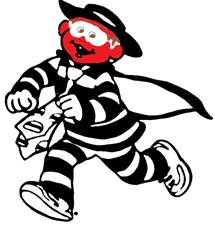 The festival was a ton of fun however and the kids loved it.
San Francisco: We decided to spend the next day in San Francisco. Personal recommendation: if you wish to spend a day in San Francisco, plan on arriving there before 4pm. I did not heed my own advice. Despite the limited time we had, we were able to do some cool stuff. We drove on Lombard Avenue (twice…apparently my GPS unit has decided that the "optimal" route should include 3 times as many stoplights as would seem logical and a top speed of 7 miles per hour, therefore it had us drive Lombard en route to any San Fran attraction), we visited Pier 39, and we took a cruise under the Golden Gate bridge and around Alcatraz. It was a blast.
It was on that cruise that I was nailed by a seagull (see Attachment 2). While I would have normally been frustrated and grossed out by having seagull excrement on my pants, I must say, I was quite impressed. The seagull managed to hit me square on the leg from a height of about 20 feet during winds of at least 20 miles per hour. Well done foe. Subsequent attempts by me to return the favor to the seagull proved unsuccessful.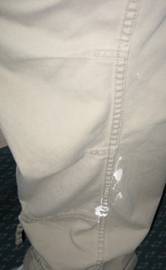 While we didn't see nearly as many of the tourist attractions in San Francisco as we would like, we did get a good taste of the "Rice a Roni" city. And I must say, while it is crowded with tourists, earthquake prone, and windy, it is at least cold.
Cannery row: On Sunday, we spent some time on Monterey's famed "Cannery row" before hitting the Monterey Bay Aquarium. Obscure trivia: "Cannery Row" received its nickname due to the feeling of being packed like a sardine in a can with all the other tourists. I jest of course. The area was beautiful and there were many shops selling interesting trinkets.
We also discovered during our time on Cannery Row that my seagull incident was not random at all. I discovered that it was part of a coordinated, calculated attack on my family after Lynsey was hit in the head with seagull doody (see Exhibit B for photos just after the attack and after the intense bathroom cleanup effort). Additionally, Karina's window on our rental van also received a heaping dose of digested whatever-seagulls-eat.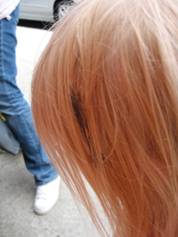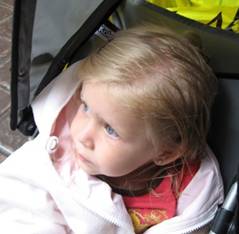 Monterey Bay Aquarium: After visiting Cannery Row, we met up with my family to check out the Monterey Bay Aquarium. I had heard many good reviews and seen pictures of the aquarium, but I was still not prepared for the size of the aquarium and its coolness quotient. Karina, myself, and the kids really enjoyed all the exhibits. I also learned a lot about oceanic wildlife. For example, I was privy to seeing sharks swimming gracefully and touching a sea urchin. The beauty and grace displayed by these animals have convinced me to no longer refer to attorneys as sharks or sea urchins. From now on, I will refer to unscrupulous lawyers as sea cucumbers…them beasts are ugly!!
And speaking of ugly and things that are not…. The many jellyfish on exhibit were awesome! I found the most beautiful variety to be the Warty Comb Jellyfish ironically. I'm not sure how they got their name, but I assume it was some sort of transcription error. Or perhaps the person who discovered them was named Mr. Wartholomew A. Comb.
California's Great America: We spent two days in San Jose at the Great America theme park. This park turned out to be a great place for families as there was a wide assortment of thrilling rides and kiddie rides. And since Karina is physically unable to ride "spinny rides" (and by physically unable, I mean physically unable to keep her food down after partaking in these rides) I had the opportunity to ride virtually every kiddie ride there. I was also able to experience a few of the big rides as well. Thankfully it was towards the end of our visit, after I had ridden the large thrill rides that I noticed this sign (see addendum 2.67B).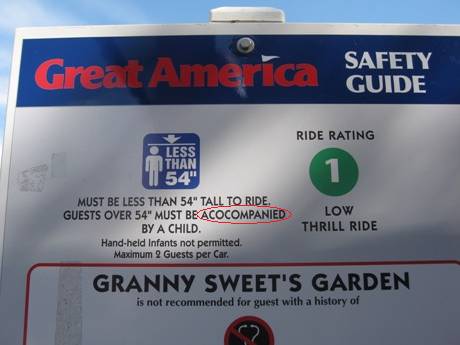 That is right, the company I had completely entrusted the lives of myself and my children to is unable to spell the word 'accompanied'. Pay no attention that the name of the ride that sign is found on was "Granny Sweet's Garden". That ride was intense. Also, pay no attention to the part of the sign saying the ride isn't intense.
Dennis the Menace Park and paddleboats: We spent the last few hours we had in Monterey at the Dennis the Menace Park. This is a cool place for kids to play, and the parents can join in as well. This huge park includes typical children's play equipment such as slides, swings, mazes, and an out of service locomotive. I must say, the train was a cool addition to the park. I would have loved that as a kid and, truth be told, I enjoyed exploring with my kids. As it is located in the middle of a children's park, the train has been left in its original condition with no unnecessary additions such as safety netting or bumpers on sharp corners. Karina and I were left to wonder how many teeth have been lost on that train over the years (and by 'lost', I mean 'forcefully ejected'). Lynsey found a unique way to explore the train when she decided to faceplant onto the sand from about 4 feet up. Judging by her reaction, it wasn't as fun as she had thought it would be. Picture of my kids having fun on the locomotive below: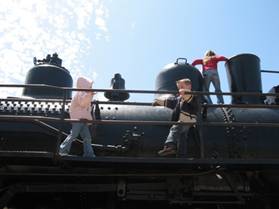 After the park, we paddleboated on the adjacent lake with Stacie and Adrian for a bit. The experience was very relaxing for Karina and the kids as they did not have to paddle. As attested by the boob and back sweat on my shirt, it was more of an intense workout for me since I was the lone paddler on our craft the S.S. Huff-and-Puff. It was fun though and I did achieve a minor sense of payback after Stacie showed me how rewarding it was to chase seagulls in the paddleboats. Pictorial proof that we were on a paddleboat supplied below (or at least proof that we wore orange life vests near water):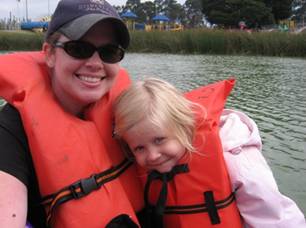 Our return trip to Oakland and flight back to Tucson were (thankfully) uneventful. Upon arrival in Tucson, Ashton was allowed to sit in the cockpit of the airplane we flew on. He really enjoyed that and we are grateful to the Southwest crew for the experience. The picture below shows the copilot instructing Ashton how to do official flight stuff. I'm pretty sure that was the point where he was demonstrating how to pull up satellite TV on the console while nobody is looking.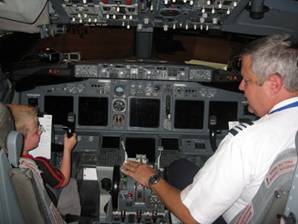 Karina, the kids, and I were glad to be back home to say hi to our pets and sleep in our beds. Now we have unpacking to look forward to. I think I am also going to practice my "aim" so I am ready the next time I run across a seagull.
---
No Replies to "Vacation"
---