Montego, Baby Why Don't We Go (to Jamaica!)
Posted on July 19, 2015
Watching your children grow and mature brings many blessings: the pride of seeing them interact with the world around them, amazement as they turn from tiny, helpless creatures to mini-adults, and ecstasy as they go to camp which means ADULTS-ONLY VACATION for mom and dad!
This being the first year all three of our kiddos were going to YMCA camp, Karina and I figured we'd use the time alone to do something fun. I suggested a trip to the local library. Karina, who has slightly more elegant aspirations, preferred an all-inclusive resort vacation in Jamaica. We decided to compromise on an all-inclusive resort vacation in Jamaica.
Before I go any further, I must say we are ultra thankful for Karina's parents Fred and Diane. They picked up our kids from camp and took care of them (ie. spoiled them) for several days to allow us to stay a full week. I also want to thank the Joshes (Bland and Devoe) for covering for me at church. And also Sierra Stevens for keeping our furry and scaly beasts alive. (Cue walking music) And finally, thank you to my mom who always believed in me and told me never to give up. When no one else thought that me going to Jamaica was possible, she encouraged my dream. I owe this trip to Jamaica to you ma!
As they say in Jamaica: thank you one and all!
And now, I present a summary of our trip in what is perhaps my most media-intensive blog ever:
Jamaica
The country of Jamaica resides on a fairly large island in the Caribbean. Or is it a tiny continent? I am not sure where the line is between island and continent. (I'm talking to YOU Australia) But I digress. It is a beautiful tropical paradise only about 90 miles from Cuba (that's approximately 950,400 high quality cigars laid end to end).
Being from Arizona, I prefer my air dry. Unfortunately, our ambassador to Jamaica was not willing to cater to my weather demands and the island instead provided humidity in the 70% range. I am pretty sure another week there and I would have started developing gills. My body's natural sweat-cooling mechanism was futilely in overdrive all week.
But Jamaica is beautiful! So tropical and green. However, it took me a while to realize this as my eyes were squinched shut in terror as we took the shuttle from Montego Bay's airport to our resort. The ride started out as the most harrowing and terrifying 10 minutes of my life. Then I realized the driver was SUPPOSED to be on the left side of the road.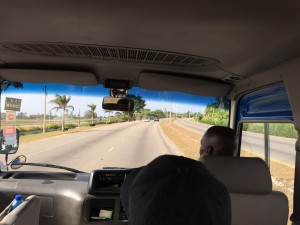 Come on Jamaica! What do you think you are? A former British colony or something?!
By the way, Jamaica is a former British colony that declared independence in 1962. In that sense, they are like a mini, tropical, reggae-infused America.
We stayed on the northeast side of the island in Montego Bay (or MoBay as the locals and us in-the-know refer to it). The capital, Kingston, in on the southeast side of the island. We learned from our very knowledgeable tour guide and driver from later in the week (see the Activities section) that the main industry in Jamaica is the export of Bauxite which is used to make aluminum and tourism is also a significant part of the economy. I think a close third is the export of Bob Marley singles. Speaking of Bob Marley, he appears to be the patron saint of the island. EVERYONE listens to his music, wears apparel with his likeness, and there is a museum for him in Kingston. Karina was interested in going to the museum…more so when we learned that, in addition to souvenirs, one will also leave the museum with a "contact high".
I know what you are thinking. No, I did not see any bobsleds. However, I was fascinated with the rich artistic culture.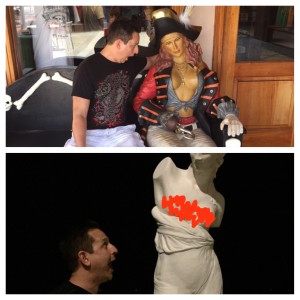 People
When we first arrived in Jamaica, I must admit, I was surprised. There were far fewer dudes with dreadlocks than I had expected (dudelocks?). I, for one, think this is false advertising! Maybe it is summer cut season or something. My second impression was the people are awesome! Very friendly and hospitable. They are also very generous. I was propositioned at least three times by gentlemen just outside the resort's boundaries to partake in what the locals refer to as ganja. You may know this as marijuana, cannabis, weed, bud, chronic, doobies, muggles, pot, sticky-icky-icky, or funk (I am pretty sure this paragraph has just put me on a DEA watch list). Despite their kind offer, I respectively declined, informing them that the only drug I get high on is life and that it's a gateway drug leading to joy!
Karina and I fell in love with the culture. Pretty much everyone speaks English, albeit with a sweet accent. And they have many catchy colloquialisms. For example, when you say thank you, the response is always "ya mon". I kid you not. I would NOT joke about something like this! Also, one of the things I found most amusing was their term for a speed bump: sleeping policeman.
And while English is the primary language, the Jamaicans also speak a non standard language called patois that is a mix of English, creole, and West African influences. They learn this at home and will speak it frequently among each other. (Pretty sure they were using it in our presence to not embarrass me with their admiration of my rugged jawline and handsome features). One term we learned was "irie". This means fantastic and we were told this is an appropriate response when someone asks how you are doing. Unless you aren't doing well. In which case using the term "irie" would make you a dirty liar. Of course I am assuming "irie" does indeed mean fantastic. Perhaps they were toying with me and I've been responding to "how are you?" with the Jamaican phrase for "I have a big butt and don't clean my ears".
Resort
Rather than hassle with finding a place to stay, finding food, renting a car, planning activities, etc., we decided to stay at an all-inclusive resort and let the employees worry about all that for us. Karina choose to book our stay at the Sandals Royal Caribbean resort. "Sandals" is Jamaican for "Flippy-Floppies". For those of you unfamiliar with Sandals, they are an all-inclusive resort, which means (almost) EVERYTHING is included in our stay: lodging, food, drinks (both the alcohol and non-alcoholic variety), and many sweet activities. The corporation has another line of resorts called "Beaches" that is geared towards families. However, Sandals is adults-only, meaning children are less legal at this resort than was the apparent solicitation of marijuana just off the resort's boundaries.
What are the advantages to staying at an adults-only resort? Peace and quiet of course! Also, the ability to choose what kind of beach we wanted to relax on: clothing mandatory, or clothing optional. Sorry to disappoint…ladies, but we stayed on the clothing mandatory beaches. (The water was pretty warm, but I still didn't want to take the risk)
The employees at the Sandals resort were spectacular. All were very helpful and friendly. Our favorites were gentlemen named "Skittles", "Big Bird", and Odane. They also taught us some native phrases and handshakes.
Our room was also spectacular. We had a view of the beach and one of the quieter pools right off of our balcony.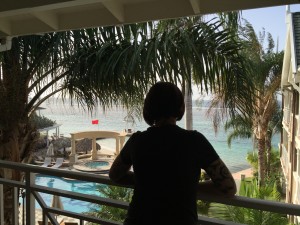 The only issue I had was with the bathroom. It had a "door", but the door had slats that were open. That with the combination of a lack of vent fan made me very uncomfortable to do my "business".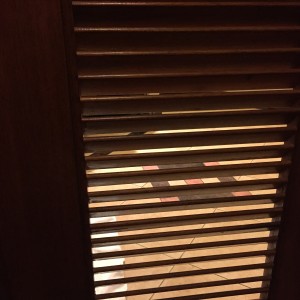 How in the world am I supposed to achieve the proper level of relaxation to accomplish my task?
On the bright side, one of the benefits of extravagant elegance is this: TWO rolls of toilet paper!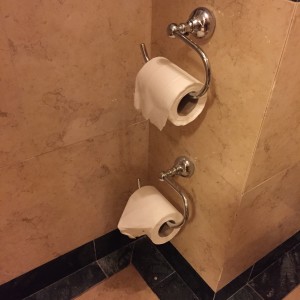 Do I choose the upper or lower roll? Answer: YES!
We also found many exotic creatures around the property. For example, there was this giant beach spider that crawled across our path during a (formerly) relaxing evening stroll:
And our favorite creature was Kevin, the house peacock. He was seriously just a peacock that makes his home there (right outside our room). Despite the fact that there are men with power tools working literally 10 feet away, he just hangs out there. And Kevin, as a peacock, truly embodied the beauty and majesty of God's creation.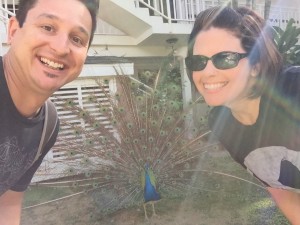 Then he opened his mouth. The sound that emanated from him embodied a set of bagpipes in the hands of an amateur…or in the hands of a professional. This is the sound we heard approximately every 3 and a half minutes, day or night:
That sound is why we named him Kevin as it reminded me of the large Snape from the movie "Up".
Food
One of the biggest benefits of an all-inclusive vacation is the food. If you play your cards right, this is where you can really get the bang for your many, many bucks. Despite the fact that I have been trying to eat better, I decided all dietary bets were off and I would eat to my heart/stomach's content. And was the food amazing?! Yes, yes it was.
Sandals offered many varieties of food to choose from. There was a buffet, a beaches burger stand, a French restaurant, a Thai place, and our favorite: a British-style pub.
This restaurant was called the Cricketer's Pub and we loved the food and the fun, casual atmosphere. And, beings the goal was to transport us to the British countryside, they played all of Britain's greatest artists…which is to say Adele was on repeat.
Cricketer's was where our favorite waiter Odane worked. We loved his attentiveness and positive attitude so much we had to let him know at the end of our visit the last time we ate there. But we told him too early. After expressing how much we loved him and him greatly appreciating it, things got awkward. Not unlike when you told your 6th grade crush about your feelings. We were all subconsciously thinking "where do we go from here?"
The other restaurants were amazing as well, albeit they were definitely more formal. Karina and I are definitely more laid back so when it comes to fancy restaurants, we are out of our league. I am baffled by many aspects of fancy restaurants: for one, the napkins. When we were seated, the waitress took us to a table set for two people, with silverware and a napkin. Then she sat us and removed the first napkin and put a different napkin on my lap. WHAT WAS THE POINT OF THE FIRST NAPKIN? Is this the kind of frivolous items we are paying for at fancy restaurants? And not to mention the 18 pieces of silverware I had to choose from: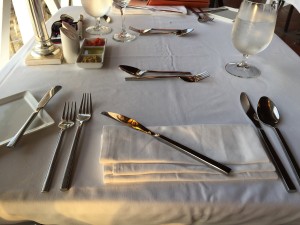 Is this some kind of joke or something?
During the course of the week we tried most of the restaurants and found them all to be amazing. While eating at the Italian restaurant, we got to see the Oasis of the Seas cruise by. Those of you familiar with the cruise lifestyle may recall that this is currently the largest cruise ship in the world. Let me tell you, it wasn't that impressive. I could fit it between my thumb and forefinger rather easily. What is it, a cruise ship for ants?! Of course it was probably 20 miles away. But still…
And one of the benefits to being on a kid-free vacation is the ability to eat our meals exactly the opposite way that we demand from our kids. That's right, I am proud to say Karina and I avoided vegetables and pizza crust for the entire vacation!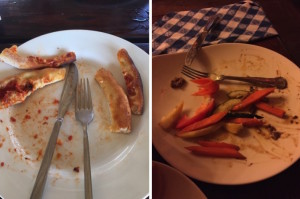 The only complaint we had regarding Sandals was the music and entertainment. All of the restaurants and most of the nighttime entertainment revolved around North American music. I'm sure this is a conscious choice to make tourists comfortable. But I didn't come to Jamaica to hear Celine Dion. In fact, Celine Dion is precisely just as Jamaican as I am.
The last night of our stay was a reggae night though and Karina and I really enjoyed that. Although we enjoyed it in our white, American way: sitting and staring while everyone else danced.
Activities
One other great aspect of an all-inclusive resort is many of the activities you'd normally pay for on a cruise are free. For example, there were hobie cats, snorkeling, and Karina's favorite: water skiing. She hadn't skied in years and was looking forward to trying it again as well as getting me to learn. Of course this was going to occur on the ocean…with waves. So I was learning on the black diamond equivalent. Much like wanting to learn to ride a bike and skipping straight to unicycling.
I do enjoy athletic endeavors so I was up for trying it. I had two roughly equivalent fears regarding water skiing:
1. Vicious shark attack
1a. Water enema
As fate would have it (or a supremely benevolent God who realizes I wouldn't want to spend the rest of my week trying to get water out of my nose), there were no buses that would allow us to go to the learning grounds in time. So Karina had to go and show off on her own:
We decided to make this vacation relaxing so the majority of our time was spent hanging around the resort on the beach. At one point I decided to go snorkeling around the resort beach. Now I have heard stories about Steve Irwin, but I am a man and I stop at nothing to show my dominion over all God's creatures…even the large, scary ones. However, when I saw that goggles were $16 and the snorkel another $16, I compromised and did the next best thing: goggling!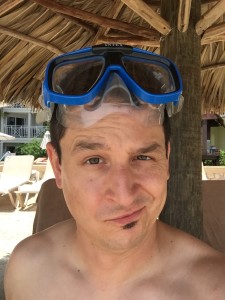 And I actually found some very cool stuff. For example, this sand colored Sting Ray (scientific name: Sting Raymond).
We did decide to do one excursion though: a plantation Segway tour and hike up a famous waterfall. Our guide Vinnae and driver Sean were awesome. They filled us in on a lot of Jamaican culture and information as we drove the hour and a half to Ochos Rios where the Prospect Plantation is located . There we mounted Segways for an informative tour of the plantation's history.
After that, we hopped on the plantation's non-stubborn camel for the trip back to the vehicle. The camel we were to originally ride decided she didn't feel like standing up with us on her back. She got relegated to the back. Bad for her (camel exhaust), but great for my selfie collection!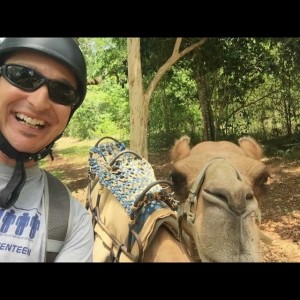 Now you may be thinking, "a camel ride?! That sounds awesome! I wish I could do that!" Well wish no more! Hop on board the camel with Karina and I and view this GoPro footage. If you'd like to make it an immersive 4D experience, rub your nose in some dung-coated hay.
As you can see in the video, someone had to bring our Segway's down since were on a camel.
On our way back from the camel adventure we made a stop to hike the famous Dunn's River Falls. This huge, 600 foot  waterfall flows directly into the ocean. Not content to just view the falls, we decided to climb it! To do this, we joined a group of about 15 folks and a guide who led us to the beach where the falls enter the ocean. We start at the beach to make sure our water shoes are full of sand to ensure maximum discomfort before we start climbing dangerous rocks.
We had a blast though. Here is pictorial and videogrpahical proof: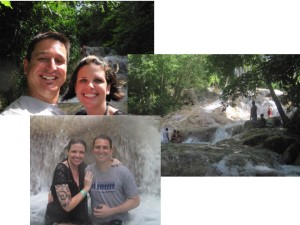 On our last full day in Jamaica we decide to make it fun and relaxing. Karina chose to get a massage. As I find massages to be more torture than relaxing (give me a back scratch any day!) I decided to do the official Sandal's snorkel adventure since Karina hates getting her hair wet and it's very difficult to snorkel without getting one's hair wet. Well I had a blast! We headed out on a boat for a short 15 minute ride to an offshore reef where we snorkeled about for about a half an hour. And it was an amazing time of reflection in peaceful serenity. I got to observe all manner of fish swimming about in beautiful formations. And that really made me ponder the vastness of the ocean and the richness of the life it holds and nurtures. So many, many creatures. Everywhere you look, another animal…that poops in the water. The very water I was in! Gross! Get me outta here!
We got back in the boat to head back to the resort and I thought the adventure was over. NAY! It was not! The engine on our boat quit and the employees were unable to restart it. We sat powerless, adrift on the waves for several minutes. People literally began barking over the side of the boat. Despite the fact that were maybe 200 feet from shore, I began contemplating in my mind which snorkeler I would eat if push came to shove. Thankfully, before I had even finished my pre-meal prayer Sandal's dispatched a rescue boat. After trading vessels in the middle of the ocean, we were back to safety and a new appreciation for life.
Karina's massage wasn't nearly as eventful or barfy as MY experience.
All in all Karina and I had an amazing time but we really did miss our kids. Thankfully they also had a great time at camp.
---
No Replies to "Montego, Baby Why Don't We Go (to Jamaica!)"
---