Vegas Getaway Part 1!
Posted on July 16, 2010
Karina and I were given an opportunity recently to take a little weekend Vegas getaway trip together. My mother graciously watched the kids for us (thanks ma!) and we flew out on a Friday afternoon.
Vegas is the hotel room capital of the world so one can find lodging of any quality and price. I personally could sleep on a frozen bed of nails and am therefore quite content in your standard Motel 6. My wife however has slightly more discriminating tastes. She prefers her room with fewer mystery stains on the bed and more amenities like coffee machines. So, we "compromised" and got a room at the Paris hotel. For those of you who have never been to this hotel and casino, it is themed after it's famous French city namesake. I have never actually been to the "real" Paris, but I think the hotel's theme folks have done a fantastic job capturing the city's aura by cleverly recreating the Eiffel Tower, streetside cafes, cobblestone streets, and the apparent abundance of Wheel of Fortune Quarter slot machines.
Upon arrival in Vegas we checked into our room and were pleasantly surprised by the view. Take a gander at the picture showing the view from our room…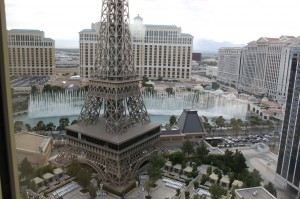 We were directly across from the Bellagio and it's famous water show (in action in the photograph above). One thing that surprises me is how loud the water show is. The music accompanying the show is not quiet, but each time the water sprays it sounds like a small explosion (probably because water cannons are used). So every half hour it felt like we were thrust directly in the middle of the Revolutionary War. After scouting out the room, we headed out to find food.
Beings it was our first night in Vegas and we love to sample the exotic cuisines indigenous to the areas we travel, we had dinner at PF Chang's. The food was fabulous and the company even better. And as an added bonus, Karina and I even spotted some folks we recognized. I saw Hank Azaria (the Blue Raja on Mystery Men as well as the voice of several Simpson's characters) and Karina saw a friend she thought was dead. I was excited to see a barely-made-the-B-List celebrity this soon in our vacation. At this rate, I thought, I'll probably run into Jaleel White, Antonio Sabato Jr., AND Tiffany (Amber)Thiessen before we head home! As I was this close to Hollywood royalty, I creepily stared at Hank over Karina's shoulder for the remainder of the dinner. I did not however get the guts to approach Hank and ask for an autograph.
Our bellies full of Americanized Chinese food, we strolled around some of the stores at the Planet Hollywood hotel. While Karina doesn't mind shopping, thankfully she is not into high fashion as it appears the "high" part refers to the pricing. Some of the products were so expensive that some boutiques (they are too high class to be called a store) entire sale able inventory consisted of 18 purses! I did not venture in to check the prices as I clearly was not in the store's intended demographic (I had forgotten to wear my tuxedo and diamond encrusted cuff links). My assumption is each purse probably cost approximately the equivalent of East Timor's gross domestic product (or the career earnings of Antonio Sabato Jr.). Looking to find a store more within our price range, we headed to Walgreen's to pick up a few necessities. I love how even Walgreen's gets into the spirit of Vegas with a bright neon sign. They also had a decent selection of reasonably priced purses…take that Donna Karan!
By this point the time was now 10 o' clock or so. Those of you who have been to Vegas before know that this is the point everyone puts on their fancy club attire and heads out in the street to use excessive profanities. This is also the time numerous gentlemen kindly wave brochures in your face advertising selfless ladies who apparently wish to provide company to lonely men. As I already had the company of a lovely lady, I ignored the men (approximately 7% of which I estimate to be legal citizens) and we headed back to our hotel for the night. Yes, I did say we hit the hay between 10 and 11. We have kids so part of our excitement on the trip was the promise of uninterrupted sleep. Of course with the Bellagio across the way, my dreams revolved around things like battles with bayonets. How relaxing!
Day 2 will be posted shortly. You'll read about the surprise Karina got me (with video!) as well as my review of an authentic Vegas show.
---
No Replies to "Vegas Getaway Part 1!"
---