I Went to Disney World!
Posted on June 22, 2013
As any casual observer of my FaceBook feed has been aware, recently our family embarked on a Disney vacation. Rather than bore you, my loyal reader (hello, anyone out there?…hello?), with a chronological recap of our 10 days of leisure, I have decided instead to provide a review of places we visited. This way you are informed as to your options should you decide to vacationate in the Floridial area.
My first review will cover our lodging in Orlando followed in the coming days by reviews of the parks we visited and our Disney cruise.
Disney's Art of Animation Resort
While we visited the theme parks located at Walt Disney World we (and by we I obviously mean Karina) decided to stay on property at the newest Disney resort: Art of Animation. According to an impartial blurb on Disney's webpage, this hotel "invites you to explore the storybook landscapes seen in such classics as Finding Nemo, Cars, The Lion King and The Little Mermaid."
SECRET TIP: DON'T MISS THIS PICTURE OPPORTUNITY!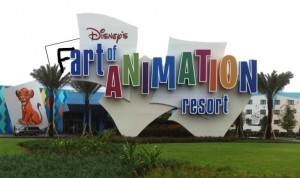 As you already know, one cannot put the letters "A", "R", and "T" in consecutive order in the vicinity of a Varner.
The rooms are themed following one of the 4 movies listed above. Our room was a Finding Nemo room. As promised by Disney, it was a delight. This room is perfect for the weary traveler who has frequent nightmares involving drowning and would like no reprieve from the fear upon waking up.
The suite we reserved was spacious and had two additional beds for our kids to share. One bed pulled down from the wall and revealed a cute picture of Marlin and Nemo snuggling near their anemone home.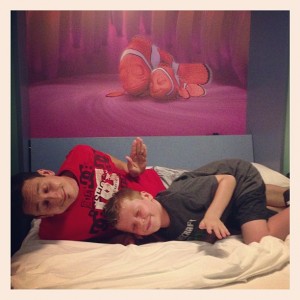 Our room was located directly adjacent to the resort's largest pool. The pool was open from 9am to midnight which we learned based on the beginning and end of the general merriment that interfered with our sleep. I attempted to disrupt the pool goer's fun by returning their auditory harassment in kind in the form of a snoring barrage. Unfortunately this only resulted in a sore throat and a very angry wife. However, when it was our turn to frolic in the pool, we had a blast.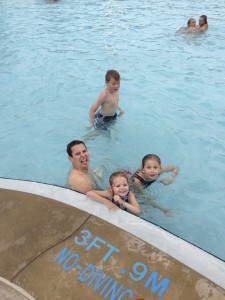 Me and my "can't you see I'm frolicking here" face
 We did explore the other movie themed areas and were very impressed. The kids enjoyed taking pictures next to the characters from Cars and the Lion King.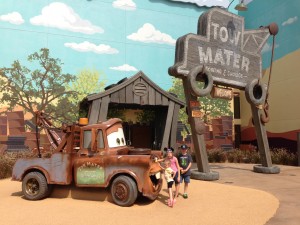 The one area I found the resort to be lacking in was food options. When staying on the Disney property you are basically limited to food at the park or your hotel. Our resort had one quick service restaurant that we ended up eating at numerous times. There was some variety at least in that there was a pasta bar, pizza area, burgers, sandwiches, etc. The food was not bad and the prices were not good.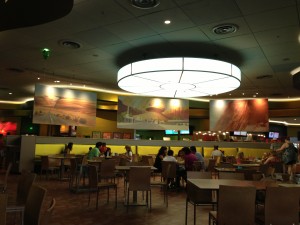 The bright center light was a helpful addition when it came to distinguishing exactly how many commas were in my food receipt.
On our second day I bought two small fruit trays for the next morning's breakfast and the receipt machine spit out 4 receipts (2 separate copies since I had used part gift card and part cash and then 2 copies of the 2 copies for me and the restaurant to share). I couldn't help but wonder what the folks at Animal Kingdom would think if they saw this tree carnage.
CAN'T MISS TREAT! A-lot-o Gelato!
One little treat offered at the restaurant was a gelato bar. What is gelato you ask? Well you uncultured swine, it's exactly like ice cream except completely different in that it costs twice as much and can only be consumed using pink mini-shovels. There were several unique varieties such as Nutella and a Honey Almond flavor that I fell passionately in love with.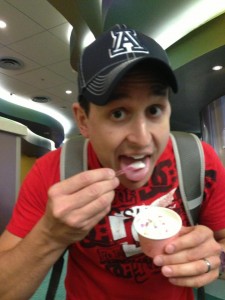 DISNEY FUN FACT!
Their knives are safe! Ridiculously, excessively, overly safe.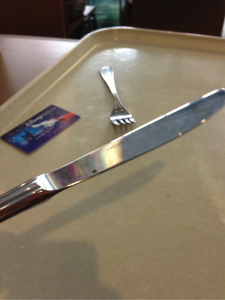 Besides the lack of focus and poor centering, do you notice anything different about the picture above? If your answer was "why, there is no serration on that 'knife'" you are correct! I do understand that Disney has to take particular measures to ensure guest safety based on it's intended demographic, but an un-sharp "knife" with no serration was useless! I was forced to use the "knife" in an attempt to irritate my food into separating.
RATING SUMMARY
Overall this new resort is a gem. It's great fun for the kids as well as the adults (until the bill shows up on your last day). I would definitely recommend this hotel to anyone looking for a place to stay in Walt Disney World. That is unless you plan on spending most of your time at the parks and then unconscious in your hotel room every evening. In which case I guess it really doesn't matter anyway.
---
No Replies to "I Went to Disney World!"
---