Christmas Giving Cheat Sheet
Posted on November 30, 2013
I love this time of year! Christmas is my favorite holiday and it's "season" seems to creep earlier and earlier every year. The "official" start in my book is Black Friday…or Black Thursday and-a-Half as it is becoming.
Black Friday marks the beginning of the season as the most foolhardy citizens celebrate the birth of our Lord and Savior Jesus by waiting in line on our nation's day of thanks to wage battle with fellow humans over electronics that will be obsolete in 6 months. However, this is not without scriptural precedent. As Jesus said in 1 Perspirations 3:17:
"and thou shalt celebrate my birth thusly: cease thanking me for thine blessing prematurely. Thenst thou shalt bundle thy selves in swaddling jackets and enter the line of the nearest Best Buy. Upon the opening of the great gates of Best Buy, thou shalt utter a war cry and battle to the land I promised. A land flowing with Xboxes and blingy cell phone cases."
Despite managing to avoid Black Friday shopping almost entirely, I happen to be an amazing gift giver. In fact, my gifts are so perfect most of the beneficiaries refuse to use them as they hold such sentimental value.
Not wanting to be a valuable information hoarder, I'd like to give you some tips and rules I use during this joyous time of money spending. Here are a few of my favorite guidelines:
1. More and more people seem to be giving gift cards instead of real presents. I think this is a cop out. Plus, think of all the plastic being utilized. What an environmental catastrophe! That's why I like to do something a little different if my intent is to give someone a mini shopping spree at a local establishment. Rather than buy a gift card for, say $25, I instead buy $25 worth of embarrassing products, saving the receipt (this is important). Then, I wrap them for Christmas. Imagine my gift receiver's surprise and elation when they open my box of laxatives and wart remover. Then, I tell them I saved the receipt so they can return it for whatever they like. BOOM! They get to open a present AND they get to pick out exactly what they want. The only stipulation is they have to walk up to customer service with a value pack of Depends and ask for a refund. (other possibilities: Neti pot, Lice Shampoo, Ensure, Justin Bieber poster, etc.)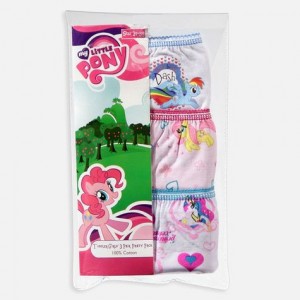 Try returning this with a straight face
2. Let's say you are one of the grandparents who refuse to even drive to a store. You'd rather just give your grandchild a check. Where is the fun in that? Here's a creative way to ensure they will never forget your gift (I must credit my friends at Raytheon for this idea): In the memo line of your check, write an embarrassing reason to pay someone. For example, "For the help lancing my boils." The possibilities are endless!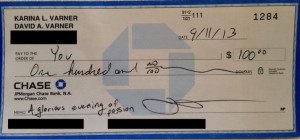 3. If you've ever bought a new firearm, you've probably noticed the manufacturer will often include the first cartridge cycled through the gun. That shows that someone cared enough to test the product before you bought it. Wouldn't you like your gift receiver to feel the same confidence in their gift? When you wrap the present, include a sample of the first use. For example, if you bought your niece a gum dispenser, include the first piece of gum. Her thankfulness will know no end!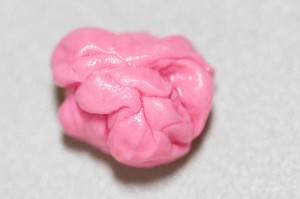 It works! Merry Christmas!
4. If you are a good husband and bought your wife a Lexus for Christmas as the commercials indicate you should, she will be surprised to see it. BORING! Why not spice the gift up a little. First, buy a new Lexus, then crash it into a wall. Wrap that one up and put it in the driveway. Then buy a second Lexus. She'll come out and see the first one not knowing what to think. You can then surprise her with the second Lexus is perfect shape. She will laugh! And this idea teaches a valuable lesson: be happy with whatever you get. Also, laughter is the best gift of all. A new Lexus is the 2nd best.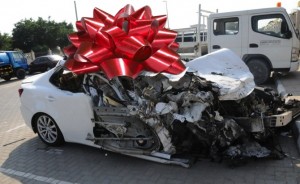 5. Here's a good lesson basis for you parents: Don't put any presents under the tree on Christmas. When your kids come down and invariably look disappointed, tell them the price of raw materials has gone up, the elven union has gone on strike for better wages, and Santa's reindeer farm has had below forecasted revenue meaning he was furloughed. You will have given them something very valuable: a life lesson on economics and disappointment. Then tell them, "just kidding." There is no Santa. SCABOW! Triple lesson!
6. Gift giving can be a good way to encourage friends and relatives to broaden their horizons. Maybe try something they wouldn't have otherwise tried on their own. Perhaps your friend hasn't had the disposable income available to eat at a nice restaurant. Get them a gift card to that nice place you ate at while on vacation in Nashville! Or you could pay the entrance fee into the Boston Marathon for your uncle Joe "feet o' bunions" Johnson. That may help him stop feeling sorry for himself. Or maybe you could get a years' supply of milk for your sister who refuses to try it because she's "lactose intolerant". More like "new experience intolerant!"
Well, I hope you have a jolly system and a Merry Christmas. Good luck shopping! Stop by whenever you get a chance as I've got your gift waiting for you. I think you'll love it…
---
No Replies to "Christmas Giving Cheat Sheet"
---