PUB22 Review
Posted on September 3, 2013
Let me first start out by saying you and I have a lot in common. For example, our favorite pizzas are (obviously) from Peter Piper Pizza. When I'm bored, (does this even need to be said?) like you I enjoy juggling rubber band balls while gargling cough syrup. Finally, I wasn't a big fan of El Charro either. My excitement when their restaurant opened in Sahuarita quickly diminished after a few meals. I was mostly unhappy with the service (I could save time on a meal by eating a hotdog at a good movie) and the food was less than stellar. Their menu had what should have been the most glorious food item in the history of mankind: sonoran dog sliders. Thinking that it is literally impossible to mess up a recipe that includes bacon I ordered it without thinking twice. It turns out it is entirely possible to mess up a recipe with bacon. So I was not heartbroken in the least when El Charro announced it was closing it's doors in order to open another restaurant.
Having missed out on trying Pubs 1 through 21, my family and I wasted no time in visitng Pub22 on it's opening weekend. We decided to go in with open minds and empty stomachs to unbiasedly assess this new local eatery. Our first impressions were very positive. Lightly themed based on the year 1922 (when El Charro first opened it's doors) the atmosphere was trendy and cool. Hear that Pub22? You have definitely cornered the "cool" market. And by cool I clearly mean guys with three kids who drive minivans and enjoy spending every free moment napping. I was slightly confused at a few quotes from famous folks that were posted outside of the restroom. I am not a historian but I am pretty sure neither AC/DC or Michael Jordan were around in 1922. I'd feel a little more immersed in the whole 1922 atmosphere if the quotes were more along the lines of "Boy, I know it's been 10 years since the Titanic sank but it sure seems like yesterday" and "the stock market will NEVER crash." Also if there were no air conditioning. I definitely will say Pub22 looks like a cool place to watch a game or to take my wife out for a dinner and some drinks.
We had arrived shortly before 5 and decided to sit outside in order to avoid a wait. The evening was very pleasant and my kids still have no clue what an "inside voice" refers to so this seemed like an optimal situation. The hostess provided children's menu/coloring sheets and crayons for my kiddos. As you can see by the picture, the design of the table rendered the crayons useless.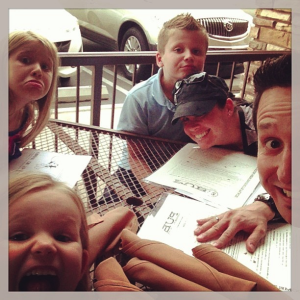 We found the wait staff to be incredibly friendly and helpful. This was a major improvement over our experiences at El Charro. My only recommendation would be to provide the servers and table attendants with basic guidelines as to how children behave with age. As we waited for our food a kind server asked my 4 year old daughter if she wanted to play a game. My daughter's answer was an excited Yes. When we went to peruse the game section I was immediately confused, then concerned. I saw games such as checkers, Life, and even Monopoly. While I was flattered that the server noticed my daughter's apparent abundance of intelligence I immediately began to wonder how long Pub22 was assuming we were going to wait for food. I've never played a game of Monopoly that took less than a week and half. In fact, it usually took about an hour and a half just to determine who got to drive the little car and who was stuck with the thimble.
One thing on the game front I found very cool was the ping pong table and cornhole setup. I think both of these offer a cool way for folks to share the company of others and wait for their food.
Pro Tip: If you are unfamiliar with cornhole do not say this to the hostess: "May I please see your cornhole?" That is unless you are a fan of dirty looks and restraining orders.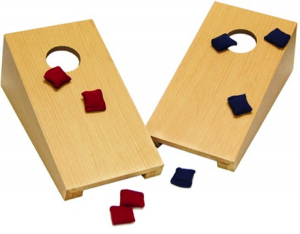 For those of you who are unfamiliar with Cornhole, here is an image of the
game that I finally found on page 18 of my troubling Google image results.
My daughter chose to play Life and thankfully I convinced her the object of the game was to identify as many different colors that we could find on the outside of the box. This held her off until the food arrived. Or should I say 80% of the food arrived. Everyone received their food except for me. Somehow my order of shredded beef (or barbercoma) enchiladas never made it to the cook. The waiter was very apologetic and rushed my enchiladas through. When I finally received them I found them to be delicious. These enchiladas are a holdover from El Charro. As with any of my Mexican food reviews I would be happy to provide you with an update regarding the enchilada's "exit velocity" upon request. My wife had some kind of steak (pictured below for reference) which she thought wasn't great on account of it being too dry. My son who is 9 and therefore missed the children's menu age cutoff by 1 year ordered the grownup portion of Cheese Tortellini with Chicken. He is a notoriously finicky eater but he loved it.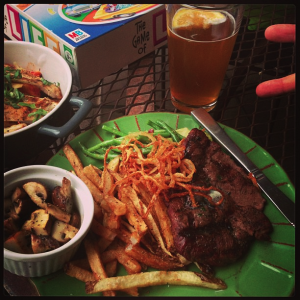 A cut of meat taken from only the finest dehydrated cows.
Pro Tip: Do not, I repeat DO NOT sit outside while eating during the month of August. When we first sat down there was an annoying fly hanging around our table. By the end of our dinner, we were 9 plagues shy of having all of our first born sons die.
As a side note, one very cool aspect of this restaurant is that the menu will be updated every 22 days. This is a very novel idea to keep people coming back. That is assuming the update is not to the prices in order to account for inflation.
Speaking of ridiculous amounts of money, when the check was finally brought out I almost coughed up some shredded beef. The total for the 5 of us was $65! Yamahama! Granted we did have 3 full entrees and my wife did order a beer. Errr…I mean I ordered a beer. Yes, it was me, the man of the family. Regardless, the average cost for each of us to eat was $13! For that price, each of us could have bought 78 eggs, or 5.2 gallons of milk, or 6 and a half loaves of bread or a myriad of combinations of the above. After I begrudgingly finished my frustrating math exercise I paid my bill and tipped the waiter (who was able to catch his balance – Hey yo!).
So, all things considered, how would I rate this restaurant you ask? Well, good question. I'd give it a 17 out of 22. I enjoyed the food, felt like we had to wait to long for most of our experience (for the food, for the check, etc.), but did feel the staff was very courteous (although a free dessert wouldn't have hurt considering my enchiladas were forgotten – although I assume they can't just be throwing out $16 desserts willy nilly). We will definitely be going back to give it another go.
---
No Replies to "PUB22 Review"
---